■BIO PROCESSED PRODUCTS GUARANTEED SAFE THE BM-S Series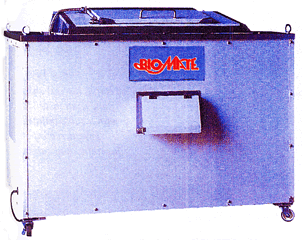 PRINCIPLE OF OPERATION
Inside the tank there is material for regulating moisture Levels. After inserting the organic waste and turning on the reverse switch "SW", the heater comes on and, the thermostat keeps the temperature at 50oC or 80oC. At the same time the agitator bar turns, crushing and oxygenating the waste in order to facilitate the action of the fermentation bacillus of Bitech 21. This maintains the correct conditions of temperature, humidity and oxygen supply for aerobic fermentation to take place without rotting. The result is high speed fermentation and decomposition that takes between 8 to 48 hours.

CHARACTERISTICS
Safe and Hygienic
At the decomposition temperature (70oC) of the aerobic, high- temperature fermentation bacillus (Bitech 21) various bacteria and seeds are killed swiftly, safely and hygienically with no smell.


Superlative Durability
Based on ten years of manufacturing experience the machine body is made of strong stainless steel that resists rust and corrosion.


High Volume Processing
There is a machine available to match any kind of daily garbage output and process it efficiently.


Low Running Cost
The system makes maximum use of bio decomposition heat and then reuses the waste heat generated from the process: thereby reducing operating costs.


Automatic, Labor Efficient
Completely automatic operation is possible; from the injection of waste to the discharge of the finished product and its transportation.


Harmless; Giving top priority to the environment
A completely safe system. Not only is environmental degradation prevented, but there is no generation of secondary pollutants such as water contamination, foul smells, soot, smoke and ashes, as is the case with other technologies.